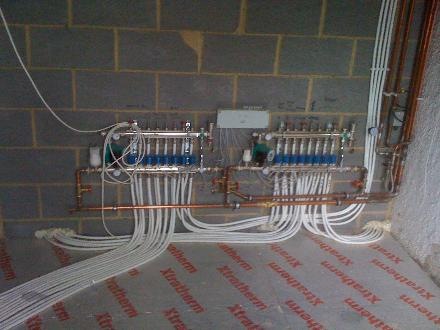 Either single zone for a small room extension or multi-zone for several rooms, the whole floor or the whole house/flat, we can design and install a wet piped low temperature under floor heating system to suit your needs.

Electric UFH is not the same, it is cheap to buy in kit form, quick and cheap to install, however very expensive to run. We only recommend the electric UFH for small areas such as kitchens or bathrooms when used with a programmable thermostat, so that it is only operated for short periods as and when in use. For example a couple of hours in the morning and evening.

A wet UFH system is heated from your condensing gas boiler. A separate pump(s) is normally required, plus a mixing/blending valve, manifold, flow gauges, electronic actuactors and room thermostats or high tech smart programmable thermostats fitted to all areas where the UFH is applied. Latest thermostats can be controlled via the internet anywhere around the world or from your smart phone.

Various methods of installing UFH are used, however it very much depends on your floor construction (solid concrete/timber suspended), although an overlay system can be used for both.
Benefits of UFH are; no radiators to free up wall space, greater comfort levels with no draughts or cold areas, energy efficient as using lower water temperature, greater comfort control. However retrofitting UFH to an existing property can be very expensive as it is very labour intensive and materials/equipment is quite extensive and costly.

If planning an extension or new build the cost is far less if incorporated into the design of the build.

Ideal floor covering is tiles, since these would conduct the heat generated. Carpets can be used but as carpets or wood flooring do not conduct heat, the UFH design would need to be designed accordingly.